Our History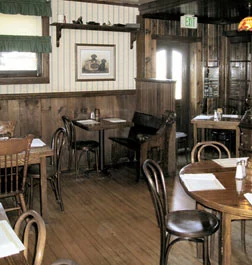 Seating in the front room (the original structure) of the restaurant. This area was Chorney's Tavern and Store in 1949.
On April 1, 2008, Charles and Ginger Allen purchased Crowley's Restaurant and Irish Pub from the former proprietors, Jack and Norma Jean Crowley. What has emerged from that humble beginning on Route 18, in the little town of Platea, is a flourishing restaurant with a reputation for dining excellence экскурсия в дом на набережной that draws crowds from near and far. Today's menu boasts 20 plus appetizers, fresh seafood, fresh-cut steaks, all the soups, burgers, chips, fries, bread, sauces, and most of the salad dressings are homemade!!
Up until1981 Crowley's was the Blue Star Tavern. The front room (entrance) of the restaurant is the original structure, built in the 1949 when the Chorney family first opened the tavern bearing their name. Years later the family sold the business, and the name was changed to the Blue Star Tavern.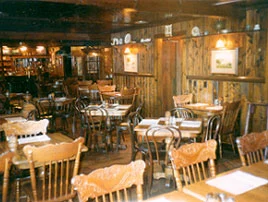 Seating in middle room. This area is great for large families or groups up to 55. The back wall was rescued from the Girard Seminary.
Under the Crowley's banner, the middle room addition was added to the restaurant increasing the seating capacity to 130 with an additional bar.Tongue and groove wood accents the walls, while the antiques and collectibles never fail to catch the eye of customers. The restaurant booth seats were once pews used by worshipers at St. Patrick's Church in Erie. The back wall in the middle room was the organ wall from a long gone seminary school in Girard. All of this history adds to the wonderful atmosphere in Crowley's.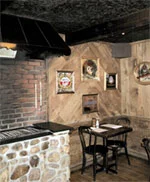 A charming table for two.
In 1992, the the back "Gallagher Room" and adjoining bar were added, increasing the restaurant seating to 225. This extra space accommodates larger groups for banquets, showers, rehearsal dinners, and small wedding receptions.The newell posts in the Gallagher Room are from old homes and churches in Pittsburgh and Cleveland. Tiffany lamps, a beautiful stained glass window and stone fireplace are focal points in the back dining room. The ceiling in the back bar is a replica of old tin ceilings found in turn of the century taverns and provides a lovely warmth to the room.
The back of the 28 acres of property borders the historical Erie Canal Extension. Diners in the Gallagher Room have the additional advantage during the daylight hours of a scenic view of two ponds surrounded by colorful flowers and shrubs. Deer and turkey are a common site in the fall and winter, plus a colony of Purple Martins makes their home here in the spring and summer.